Pacific Basin Dental Association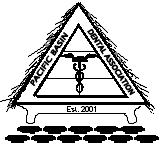 The Pacific Basin Dental Association (PBDA) objectives include promoting good oral health and linking oral health with the Healthy Islands vision, facilitating improvements in oral health services, carrying out continuing education, improving networking among dental professionals, and strengthening surveillance.
It is anticipated that the PBDA will serve as a model for the rest of the Pacific. In the long term, it is hoped that a network of dental associations will be established and that this will lead to an improvement in oral health in all Pacific island countries.
Read more...
Interim President
Ohnmar Tut, DDS
Republic of the Marshall Islands
Past President
Keith Larson, DDS
Former Dental Director of Republic of Palau
Vice President
Maria Hindenburg, DDS
Republic of Palau
Secretary/Treasurer
Dr. Marcelle Gallen
Federated States of Micronesia/Pohnpei
Member Territories/Jurisdictions
American Samoa
Guam
Northern Marina Islands
Marshall Islands
Palau
Micronesia/Kosrae
Micronesia/Yap
Micronesia/Chuuk
Micronesia/Pohnpei