The Association of State and Territorial Dental Directors (ASTDD) is a national non-profit organization representing the directors and staff of state public health agency programs for oral health. It was organized in 1948 and is one of 17 affiliates of the Association of State and Territorial Health Officials (ASTHO). ASTDD formulates and promotes the establishment of national dental public health policy, assists state dental programs in the development and implementation of programs and policies for the prevention of oral diseases; builds awareness and strengthens dental public health professionals' knowledge and skills by developing position papers and policy statements; provides information on oral health to health officials and policy makers, and conducts conferences for the dental public health community.
A strong and effective governmental oral health presence in states and territories to assure optimal oral health.
ASTDD provides leadership to:
advocate for a governmental oral health presence in each state and territory,
increase awareness of oral health as an important and integral part of overall health,
address health equity,
promote evidence-based oral health policy and practice, and
assist in the development of initiatives to prevent and control oral diseases.
The ASTDD Membership consists of the chief dental public health officer (state dental director) of the state health department or equivalent agency, and the U. S. Territories. ASTDD also offers Individual or Organizational Associate Membership which is open to any public agency, voluntary organization, tribal entity and/or health professionals employed or interested in dental public health. Members and Associate members serve on and chair committee's or work groups, receive the ASTDD newsletter, are enrolled on the ASTDD list serve, and participate in the ASTDD Annual Business Meeting held in conjunction with the annual National Oral Health Conference. Individual Associate member dues are $75.00 per year. Organizational Associate Membership dues are $400 per year.
ASTDD Key Messages
State Oral Health Programs make an essential contribution to public health and must be continued and enhanced. Resources to Support ASTDD Key Messages.
1. A successful SOHP must have diversified funding that includes funding for state and local evidence-based programs.
2. A successful SOHP needs a continuous, strong, credible, forward-thinking leader.
3. A successful SOHP needs a complement of staff, consultants and partners with proficiency in the ASTDD Competencies for SOHPs.
4. A successful SOHP needs one or more broad-based coalitions that include partners with fiscal and political clout.
5. A successful SOHP must have valid data (oral health status and other) to use for evaluation, high quality oral health surveillance, a state oral health plan with implementation strategies, and evidence-based programs and policies.
Announcements, Publications & Documents
Oral Health Matters - The winter 2017 edition of the ASTDD newsletter; meet members and associate members, check out state shots, and much more. (March 2017)
Strengthening Title V Evidence Based or Informed Strategy Measures – During this webcast presenters provided an overview of State Action Plans, National Performance Measure 13 A/B, Evidence-based and Evidence-informed Strategy Measures,  and State Performance Measures. They also described characteristics of strong ESMs and SPMs and provided examples of how ESMs can be made stronger. They finished with state examples from Alabama and Iowa. (June 2017)
PowerPoint
Turning Data into Action: Using the CDC Oral Health Data Portal to Visually Depict Oral Health Data – In the third in this series of webcasts, CDC Division of Oral Health staffer, Valerie Robison,  demonstrated how to use the data portal portion of CDC's Oral Health Data web platform for data analysis, visualization and export. (June, 2017)


PowerPoint
Turning Data into Action: Developing and Using State Oral Health Data Reports- Representatives from Hawaii and Vermont discussed how they developed their oral health reports and how they have used the reports for program planning, program evaluation and advocacy. (June 2017)
PowerPoint
Turning Data into Action: The Importance of Data Dissemination Webcast

-

ASTDD's Data and Surveillance Coordinator, Dr. Kathy Phipps, provided an overview of why data dissemination is important and why it's a key component of any surveillance system (May 2017)
PowerPoint
Adopting Performance Management Strategies to Improve Oral Health in Your State

-

Performance Management and Quality Improvement are more than just buzz words. Performance Management and Quality Improvement approaches and tools can help state Offices of Oral Health improve their efficiency and effectiveness. This webinar provides an introduction to Performance Management and Quality Improvement approaches and tools as well as examples of how these are used in state Oral Health Offices. (April 2017)
PowerPoint
Data Sources: Where to Uncover Oral Health Information for Older Adults - In this webcast, Lori Cofano, BSDH and Consultant to the ASTDD Healthy Aging Committee, Mike Manz, DDS, MPH, DrPH and ASTDD Surveillance Consultant, Kathy Phipps, DrPH and ASTDD Data and Surveillance Coordinator, and Diane Brunson, RDH, MPH and Chair of the ASTDD Healthy Aging Committee provide an overview on how to find older adult oral health data (BRFSS, NHANES, MEPS, CASOA, BSS, etc.). They show you where to find valuable information that can then be shared to raise the awareness of older adult oral health issues. Once you've discovered this treasure trove of information, how do you cash in on it? Check out an infographic template that was shared as part of the webcast. The template can be used to frame your newly found wealth of information. (March 2017)
PowerPoint Slides
Silver Diamine Fluoride Fact Sheet (March 2017)
Give You and Your Baby A Lifetime Of Healthy Teeth – A look at the new perinatal oral health educational module available through wichealth.org. Join Reg Louie, ASTDD Perinatal Oral Health Committee consultant, Emily Norrix, Michigan Perinatal Oral Health Consultant, Katrina Holt from the Oral Health Resource Center and Bob Bensley from wichealth.org to take a look at the newly developed, free perinatal oral health module entitled, "Give You and Your Baby A Lifetime Of Healthy Teeth." Lear what wichealth.org does, how the new module works and what it looks like, as well as how to advocate for this module to be chosen in your state.  (March 2017)
PowerPoint slides
2018 National Oral Health Conference
April 16-18, 2018  |  Louisville, Kentucky

---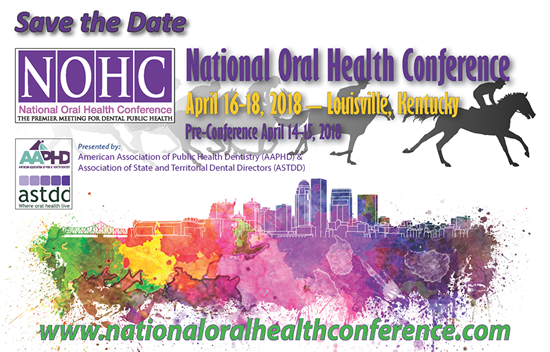 ---
2017 NOHC Sponsors
Thank you!
Advertising on ASTDD's website does not imply an endorsement by ASTDD of a company's products or services.