The Association of State and Territorial Dental Directors (ASTDD) is a national non-profit organization representing the directors and staff of state public health agency programs for oral health. It was organized in 1948 and is one of 17 affiliates of the Association of State and Territorial Health Officials (ASTHO). ASTDD formulates and promotes the establishment of national dental public health policy, assists state dental programs in the development and implementation of programs and policies for the prevention of oral diseases; builds awareness and strengthens dental public health professionals' knowledge and skills by developing position papers and policy statements; provides information on oral health to health officials and policy makers, and conducts conferences for the dental public health community.
A strong and effective governmental oral health presence in states and territories to assure optimal oral health.
ASTDD provides leadership to:
advocate for a governmental oral health presence in each state and territory,
increase awareness of oral health as an important and integral part of overall health,
address health equity,
promote evidence-based oral health policy and practice, and
assist in the development of initiatives to prevent and control oral diseases.
The ASTDD Membership consists of the chief dental public health officer (state dental director) of the state health department or equivalent agency, and the U. S. Territories. ASTDD also offers Individual or Organizational Associate Membership which is open to any public agency, voluntary organization, tribal entity and/or health professionals employed or interested in dental public health. Members and Associate members serve on and chair committee's or work groups, receive the ASTDD newsletter, are enrolled on the ASTDD list serve, and participate in the ASTDD Annual Business Meeting held in conjunction with the annual National Oral Health Conference. Individual Associate member dues are $75.00 per year. Organizational Associate Membership dues are $400 per year.
ASTDD Key Messages
State Oral Health Programs make an essential contribution to public health and must be continued and enhanced. Resources to Support ASTDD Key Messages.
1. A successful SOHP must have diversified funding that includes funding for state and local evidence-based programs.
2. A successful SOHP needs a continuous, strong, credible, forward-thinking leader.
3. A successful SOHP needs a complement of staff, consultants and partners with proficiency in the ASTDD Competencies for SOHPs.
4. A successful SOHP needs one or more broad-based coalitions that include partners with fiscal and political clout.
5. A successful SOHP must have valid data (oral health status and other) to use for evaluation, high quality oral health surveillance, a state oral health plan with implementation strategies, and evidence-based programs and policies.
Announcements, Publications & Documents
Navigating the ASTDD Website: This 10 minute tutorial provides tips on how to navigate the ASTDD website more efficiently and productively.
PowerPoint
Oral Health Matters - The winter 2018 edition of the ASTDD newsletter; meet members and associate members, check out state shots, and much more. (March 2018)
Improving Oral Health Access and Services for Older Adults White Paper – In this white paper ASTDD explains the rationale for supporting efforts to provide a comprehensive dental benefit for older adults in publicly funded programs such as Medicare and Medicaid, and inclusion of dental benefits in all health insurance plans. In it ASTDD also encourages state level data collection and supports research efforts to further document cost-savings and overall economic benefit from optimum oral health among older adults. (February 2018)
These are 3 topic-focused lists of resources that states can use to inform their responses to the 2018 HRSA Oral Health Workforce Funding Opportunity.
Obesity Resources
Opioid Resources
Teledentistry Mobile Resources
Annual Committee/Focus Area Reports January 1, 2017 - December 31, 2017
Training Health Care Professionals to Focus on the Oral-Systemic Health of Older Adults

– During this webcast, three programs that successfully train future health care professionals to work with the older adult population, with a focus on oral-systemic health, presented. (January 2018)


PowerPoint Slides
State Synopses Questionnaire webcast - Dr. Kathy Phipps, ASTDD Data and Oral Health Surveillance Consultant, provided an overview of changes to the annual ASTDD State Synopses questionnaire. She provided guidance on completing the survey and answered questions from the audience.(January 2018)
Synopses Webinar PowerPoint
Oral Health 101
These learning modules are intended to provide an overview of dentistry and oral health for health department staff and others who do not have formal dental or dental hygiene education and who would like to have a better understanding of oral health. (December 2017)
Making Oral Health Count: Toward a Comprehensive Oral Health Measurement System: The DentaQuest Foundation funded the Association of State and Territorial Dental Directors (ASTDD) and the Children's Dental Health Project (CDHP) to systematically gather input from oral health advocates, provider groups, and federal agency officials responsible for oral health data to develop this issue brief that outlines some of the strategies needed to achieve a comprehensive Oral Health Measurement System. (December 2017)
Success Stories from School Sealant Programs - Healthy People 2020 objective OH 12-2 is to "Increase the portion of  children aged 6-9 years who have received dental sealants on one or more of their permanent  first molar teeth." Building a successful school-based dental sealant program is a means of meeting this objective. In this webcast, three presenters from various school-based sealant programs, present information about an important school-based dental sealant program component and share a story around building a successful sealant program. Resources, such as the ASTDD  School-based Dental Sealant Best Practice Approach Report and the 2017 Children's Dental Health Project, Sealant Work Group Recommendations as well as other state manuals and reports, will be shared for future use in building a successful program.  (November 2017)
Introduction and Resources PowerPoint
Terri Chandler PowerPoint
Stephanie Chickering PowerPoint
Matt Crespin PowerPoint
Infographic Example – Nevada Hospital Emergency Room usage
Infographic Example – Future Smiles Statewide Summary Report
Infographic Example – Martinez Elementary School Report
Fluoride Varnish Program Report and Fluoride Varnish Program Catalog - The Association of State and Territorial Dental Directors (ASTDD) is pleased to share the results of the survey of the  school-based fluoride varnish programs (children 6-17 years old) operating in the U.S in 2015-2016. In addition to the description of the survey, we were able to create a catalog of fluoride varnish programs by state. We found that responders defined fluoride varnish programs differently and we were not able to clearly identify programs that offered only fluoride varnish. We also identified states that did not answer in the affirmative while incorporate fluoride varnish into existing school-based programming. The number of programs and contacts may have changed since the survey was conducted. Please send any additions, corrections or other clarifications directly to our consultant, LeeAnn HoaglinCooper.  The complete survey questions and responses are available to ASTDD members in the Members Only section of the ASTDD website.  (October 2017)
The New and Improved Children's Basic Screening Survey (BSS) -  In July 2017, ASTDD published the newest version of the children's Basic Screening Survey (BSS) manual. The primary change to the manual is the addition of two optional indicators - potentially arrested decay and sealants on primary molars. This webinar provided detailed information on the additional indicators and how they may impact future data collection along with comparisons to prior survey results. At the end of this webinar, participants will be able to (1) describe the evolution of the BSS since its inception in 1999, (2) describe the clinical criteria for the optional indicators and (3) understand how revised data collection will impact calculation of the NOHSS indicators. (October 2017)
PowerPoint
2018 National Oral Health Conference
April 16-18, 2018  |  Louisville, Kentucky

---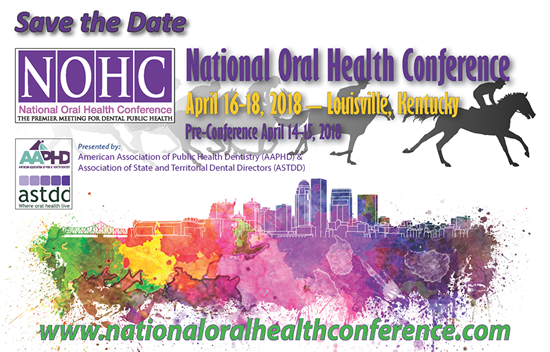 ---
2017 NOHC Sponsors
Thank you!
Advertising on ASTDD's website does not imply an endorsement by ASTDD of a company's products or services.