The Association of State and Territorial Dental Directors (ASTDD) is a national non-profit organization representing the directors and staff of state public health agency programs for oral health. It was organized in 1948 and is one of 17 affiliates of the Association of State and Territorial Health Officials (ASTHO). ASTDD formulates and promotes the establishment of national dental public health policy, assists state dental programs in the development and implementation of programs and policies for the prevention of oral diseases; builds awareness and strengthens dental public health professionals' knowledge and skills by developing position papers and policy statements; provides information on oral health to health officials and policy makers, and conducts conferences for the dental public health community.
A strong and effective governmental oral health presence in states and territories to assure optimal oral health.
ASTDD provides leadership to:
advocate for a governmental oral health presence in each state and territory,
increase awareness of oral health as an important and integral part of overall health,
address health equity,
promote evidence-based oral health policy and practice, and
assist in the development of initiatives to prevent and control oral diseases.
The ASTDD Membership consists of the chief dental public health officer (state dental director) of the state health department or equivalent agency, and the U. S. Territories. ASTDD also offers Individual or Organizational Associate Membership which is open to any public agency, voluntary organization, tribal entity and/or health professionals employed or interested in dental public health. Members and Associate members serve on and chair committee's or work groups, receive the ASTDD newsletter, are enrolled on the ASTDD list serve, and participate in the ASTDD Annual Business Meeting held in conjunction with the annual National Oral Health Conference. Individual Associate member dues are $75.00 per year. Organizational Associate Membership dues are $400 per year.
ASTDD Key Messages
State Oral Health Programs make an essential contribution to public health and must be continued and enhanced. Resources to Support ASTDD Key Messages.
1. A successful SOHP must have diversified funding that includes funding for state and local evidence-based programs.
2. A successful SOHP needs a continuous, strong, credible, forward-thinking leader.
3. A successful SOHP needs a complement of staff, consultants and partners with proficiency in the ASTDD Competencies for SOHPs.
4. A successful SOHP needs one or more broad-based coalitions that include partners with fiscal and political clout.
5. A successful SOHP must have valid data (oral health status and other) to use for evaluation, high quality oral health surveillance, a state oral health plan with implementation strategies, and evidence-based programs and policies.
Announcements, Publications & Documents
Oral Health Matters - The spring 2017 edition of the ASTDD newsletter; meet members and associate members, check out state shots, and much more. (July 2017)
Indian Health Service Division of Oral Health Overview for State Dental Directors (password = "ASTDD") – Dr. Tim Ricks, Deputy Director of the IHS Division of Oral Health presented a 90-minute webinar designed to provide State & Territorial Dental Directors with an overview of the Indian Health Service Division of Oral Health, including recent initiatives and projects. The goal of this webinar was to facilitate open lines of communications between IHS Area Dental Officers & Dental Support Centers with State Dental Directors, forging new partnerships and reinforcing previous ones.  IHS Headquarters Staff, Area Dental Officers, and Dental Support Centers were also invited to the webinar, and State Dental Directors were encouraged to ask questions throughout the webinar to learn more about the IHS. (September 2017)
Adapting to Public Administration in State Government:  How Not to Get Hung by the Government Ropes - Today's management environment presents many challenges including, dealing with multi-generational staff, office hours and locations, budgets, and hiring. Have you been struggling with how to manage staff that has a different perspective on how to complete assigned tasks?  Do you have staff requesting off-site work locations or flexible hours? Has your program budget made it difficult to compete with private industry when hiring? Are you making decisions based on your environment vs. instinct? Is there an opportunity for you to strengthen your leadership skills so you avoid getting tangled in the "government ropes?" Our presenter, Dr. Bob Russell, recently completed a Certified Public Manager Program through Drake University and shared his insight into these complex management issues. (August 2017)
PowerPoint
ASTDD Performance Management Toolkit for State Oral Health Programs - The purpose of this toolkit is to provide state oral health programs with an orientation to performance management (PM) as well as resources to further learning and competency related to PM. The toolkit grew out of an identified need among Association of State and Territorial Dental Director (ASTDD) members and requests for information and technical assistance. (August 2017)
Silver Diamine Fluoride Fact Sheet (July 2017)

Recommended Guidelines for Surveillance of Non-Traumatic Dental Care in Emergency Departments

– The purpose of this document is to provide a standardized framework for how state oral health programs (SOHPs) should evaluate and document the use of emergency departments (EDs) for non-traumatic dental conditions (NTDCs). By following this guidance, SOHPs will be able to compare their ED data to information from other states and have the ability to assess trends in ED use over time. (July 2017)

The Health Resources and Services Administration (HRSA) has proposed updates to the Title V Maternal and Child Health Services Block Grant guidance for the next 5-year (2020–2025) period. This guidance is used by states and jurisdictions in applying for block grants and in preparing the required annual report. HRSA has proposed several changes to the guidance, which could significantly impact oral health and the oral health national performance measure (NPM 13). To read the notice and submit a formal comment, go the Federal Register

.

Comments are due by August 8, 2017. ASTDD and the National Maternal and Child Oral Health Resource Center have developed talking points to help states prepare comments in response to HRSA's proposed updates to the Title V Block Grant. (July 2017)
Strengthening Title V Evidence Based or Informed Strategy Measures – During this webcast presenters provided an overview of State Action Plans, National Performance Measure 13 A/B, Evidence-based and Evidence-informed Strategy Measures,  and State Performance Measures. They also described characteristics of strong ESMs and SPMs and provided examples of how ESMs can be made stronger. They finished with state examples from Alabama and Iowa. (June 2017)
PowerPoint
Data Into Action: Using Coalitions and Partners to Spread the Message - Representatives from the Children's Health Alliance of Wisconsin and Washington Dental Service Foundation talked about how to use outsides partners for data dissemination and advocacy. (August 2017)
PowerPoint

Turning Data into Action: Oral Health Infographics – State Examples – During the sixth webcast in this series representatives from Arizona and New Hampshire discussed how they developed and used oral health specific infographics. (August 2017)
PowerPoint

Turning Data into Action: Web-based Oral Health Data Systems – In the fifth of this seven part webcast series, representatives from Colorado and Minnesota discussed how they developed their web-based data systems with special emphasis on the target audience and necessary resources.  (July 2017)
PowerPoint – Part 1
PowerPoint – Part 2

Turning Data into Action: Infographics – In the 4th of this seven part series, Carole Stampfel from the Association of Maternal & Child Health Programs provided an introduction to infographics including what they are, how they can be used and how they should be developed. (June 2017)
PowerPoint

Turning Data into Action: Using the CDC Oral Health Data Portal to Visually Depict Oral Health Data – In the third in this series of webcasts, CDC Division of Oral Health staffer, Valerie Robison,  demonstrated how to use the data portal portion of CDC's Oral Health Data web platform for data analysis, visualization and export. (June, 2017)


PowerPoint
Turning Data into Action: Developing and Using State Oral Health Data Reports- Representatives from Hawaii and Vermont discussed how they developed their oral health reports and how they have used the reports for program planning, program evaluation and advocacy. (June 2017)
PowerPoint
Turning Data into Action: The Importance of Data Dissemination Webcast

-

ASTDD's Data and Surveillance Coordinator, Dr. Kathy Phipps, provided an overview of why data dissemination is important and why it's a key component of any surveillance system (May 2017)
PowerPoint
2018 National Oral Health Conference
April 16-18, 2018  |  Louisville, Kentucky

---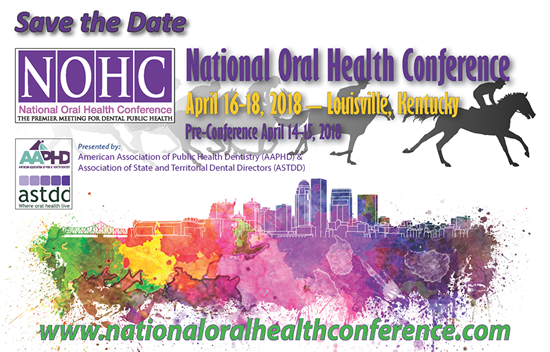 ---
2017 NOHC Sponsors
Thank you!
Advertising on ASTDD's website does not imply an endorsement by ASTDD of a company's products or services.