The Association of State and Territorial Dental Directors (ASTDD) is a national non-profit organization representing the directors and staff of state public health agency programs for oral health. It was organized in 1948 and is one of 17 affiliates of the Association of State and Territorial Health Officials (ASTHO). ASTDD formulates and promotes the establishment of national dental public health policy, assists state dental programs in the development and implementation of programs and policies for the prevention of oral diseases; builds awareness and strengthens dental public health professionals' knowledge and skills by developing position papers and policy statements; provides information on oral health to health officials and policy makers, and conducts conferences for the dental public health community.
A strong and effective governmental oral health presence in states and territories to assure optimal oral health.
ASTDD provides leadership to:
advocate for a governmental oral health presence in each state and territory,
increase awareness of oral health as an important and integral part of overall health,
address health equity,
promote evidence-based oral health policy and practice, and
assist in the development of initiatives to prevent and control oral diseases.
The ASTDD Membership consists of the chief dental public health officer (state dental director) of the state health department or equivalent agency, and the U. S. Territories. ASTDD also offers Individual or Organizational Associate Membership which is open to any public agency, voluntary organization, tribal entity and/or health professionals employed or interested in dental public health. Members and Associate members serve on and chair committee's or work groups, receive the ASTDD newsletter, are enrolled on the ASTDD list serve, and participate in the ASTDD Annual Business Meeting held in conjunction with the annual National Oral Health Conference. Individual Associate member dues are $75.00 per year. Organizational Associate Membership dues are $400 per year.
ASTDD Key Messages
State Oral Health Programs make an essential contribution to public health and must be continued and enhanced. Resources to Support ASTDD Key Messages.
1. A successful SOHP must have diversified funding that includes funding for state and local evidence-based programs.
2. A successful SOHP needs a continuous, strong, credible, forward-thinking leader.
3. A successful SOHP needs a complement of staff, consultants and partners with proficiency in the ASTDD Competencies for SOHPs.
4. A successful SOHP needs one or more broad-based coalitions that include partners with fiscal and political clout.
5. A successful SOHP must have valid data (oral health status and other) to use for evaluation, high quality oral health surveillance, a state oral health plan with implementation strategies, and evidence-based programs and policies.
Announcements, Publications & Documents
Oral Health Matters - The spring 2016 edition of the ASTDD newsletter; meet members and associate members, check out state shots, and much more. (June 2016)
ASTDD Social Media Library - These messages and images are intended for our members, associate members, state oral health program personnel, health departments and our partner organizations to use with social media outlets, such as Twitter and Facebook. Each message is 140 characters or less, per Twitter requirements. Messages may be used as written or customized to address local or other specific needs. This list will be updated regularly, so check back often. (June 2016)

Association of State and Territorial Dental Directors Competencies and Public Health Accreditation Board Standards and Measures Crosswalk

- This crosswalk highlights the congruency of the Association of State and Territorial Dental Directors' Competencies for State Oral Health Programs and the Public Health Accreditation Board's Standards and Measures.

(May 2016)

If your state does not have a written oral health surveillance plan or has one that needs to be updated, then you might be interested in ASTDD's Oral Health Surveillance Plan Template. The template is designed to help states with the cumbersome process of writing, revising or updating an oral health surveillance plan. The template is a complete surveillance plan document that, with a small amount of effort, can be modified to a customized document for your state. The template includes background information on the importance of public health surveillance, the importance of oral health surveillance, and a core set of indicators to include in a state oral health surveillance system (OHSS). (May 2016)
Oral Health Surveillance Plan Template Instructions
ASTDD has developed a Dental Public Health 101 learning module for state oral health program staff and others interested in learning more about dental public health. (March 2016)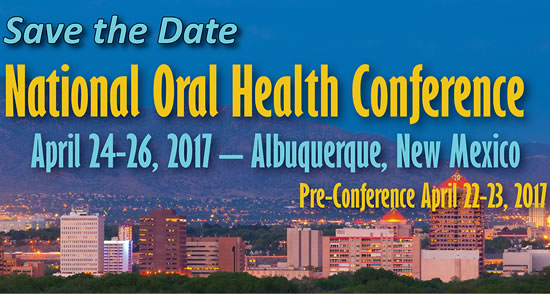 ---
For Additional information visit the NOHC Website
2016 NOHC Sponsors
Thank you!
Platinum Sponsor:
Aseptico
Gold Sponsors:
American Dental Association
Medical Products Laboratories, Inc.
Silver Sponsors:
DNTLworks Equipment Corporation, Inc.
Elevate Oral Care
Premier Dental Products Company
Quintessence Publishing
Sentry Dental Products
Advertising on ASTDD's website does not imply an endorsement by ASTDD of a company's products or services.