Territorial & Freely Associated Oral Health Programs
Puerto Rico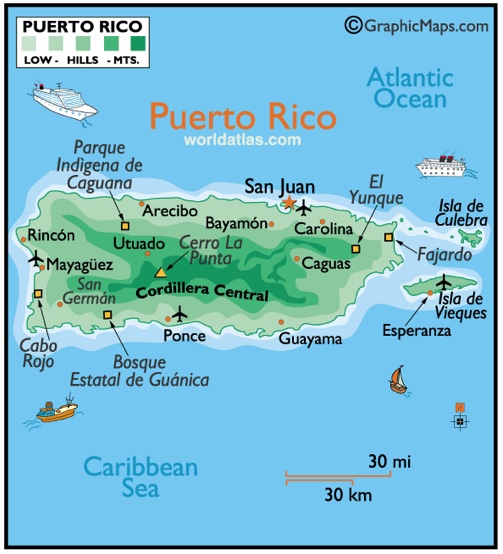 Geography: The Island of Puerto Rico is located in the Caribbean. Puerto Rico is the smallest and the most eastern island of the Greater Antilles (with Cuba, la Española y Jamaica). Although often referred to as an island, Puerto Rico is an archipelago formed by the main island and 143 small islands, islets and cays, including Vieques, Culebra, Culebrita, Palomino, Mona, and Monito. With an area of 3,425 square miles (9,104 sq km), Puerto Rico is the third largest island in the United States and the 82nd largest island in the world.1
In September 2017, Hurricanes Irma and Maria made landfall in Puerto Rico causing widespread destruction and exacerbating challenges in a region already coping with long-term economic issues.
Given the scale of the disaster, the limited response resources and the emergency services severely compromised, the residents lacked electricity, food, and water for a prolonged period; furthermore, roads were obstructed, and residents had limited access to medical care2. Several federal agencies have supported the Island in its disaster recovery plan including economic recovery and resilience, physical infrastructure and human recovery.
The official languages of Puerto Rico are Spanish and English with a literacy rate of 92.40 %.3
Health Services: The provision of health services is organized by levels of provision, beginning with enrollment in a benefits package under an insurer and followed by primary services, secondary and tertiary services. The population with low income could access health services through the Government Health Plan (PSG). For 2020, the PR Health System is made up of 68 hospitals island-wide with 13,467 certified beds and 10,162 active beds.
Demography: The population of Puerto Rico is very homogeneous with 98.9% identified as Hispanic or Latino, according to 2019 estimates provided by the Census. In terms of gender, 52.5% of the population is female. For 2015-19, 76.5% of persons age 25 years and older were high school graduates or higher.
In 1990, the population had an expansive structure, but now it has become regressive, with greater aging (21.3% of the population was over 65 years old in 2019).
Puerto Rico per capita income is $12,451 with 43.5% of the population falling below the Federal Poverty Level. For 2015-19, 44.4% of the civilian population age 16 years or older are the labor force; mean travel time to work is 29.3 minutes.
Sociocultural determinants of health: In Puerto Rico, determinants such as lower economic income, less schooling and access to medical insurance are common sociodemographic characteristics of health conditions. In addition, in Puerto Rico there are disparities in the provision of health services that place certain population groups in the position of total exclusion; particularly immigrants and the population not insured by medical plans are the most affected compared to groups that, for some reason, have restrictions on access to health services. According to Puerto Rico Behavioral Risk Factor Surveillance System (PR-BRFSS) data, the population between the ages of 25 and 34 has the highest percentage of people without health insurance coverage; 9.6% of persons under age 65 don't have health insurance. These people are of productive age, with a very unequal distribution, since 77% of the population generates or receives less than $25,000 per year; this could prevent them from having access to the government health plan, while these low monetary resources make it impossible to pay for private health insurance.
According to Law No. 35 of June 28, 1994, hospitals that have an emergency room or stabilization room are required to provide the necessary services to all with health emergencies and to women who are in labor. Under this law, the hospital cannot deny service to anyone if they cannot afford to pay.
Puerto Rico Geographic, Demographic, and Socioeconomic Status4
Total Population in millions 2019
3,193,694
330 Million
Population Density (person/sq. mile) 2018
360.017
93
% population <15 y
14.38
18.55
IMR (infant deaths/1000 live births)
6.76
5.8
Per capita income
$12,451
$59,500
1. Retrieved from Welcome to Puerto Rico. Webpage: https://welcome.topuertorico.org/geogra.shtml. Retrieved of Nov 10, 2020.
2. Source: Transformation and Innovation in the Wake of Devastation an Economic and Disaster Recovery Plan for Puerto Rico. Retrieved Nov 9, 2020
3. Source: World Bank Open Data. Retrieved from https://data.worldbank.org/ Retrieved Nov 20, 2020
4. United States Census Bureau - Quick Facts - Puerto Rico https://www.census.gov/quickfacts/fact/table/PR/HSD410218#HSD410218
6. Departamento de Salud (2018). Secretaría de Planificación.
7. Departamento de Salud (2017). Secretaría de Planificación.
8. United States Census Bureau: https://data.census.gov/cedsci/table?q=median age puerto rico&tid=ACSST1Y2019.S0101&hidePreview=false
Links
Public Health Challenges and Oral Health Successes Post Hurricane Maria's Devastation (2019 PowerPoint)
Results of the First Year of Implementation of the Oral Health Certificate in Puerto Rico - Abstract of poster presented at the 2021 Virtual National Oral Health Conference (2020)

Priority Oral Health Topics in Puerto Rico Before and After COVID-19 Pandemic (2021)