Territorial & Jurisdiction Oral Health Programs
Territories & Jurisdictions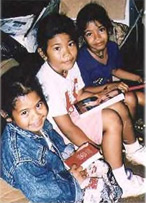 A territory is a subdivision of the United States that is not a state and is administered by an appointed or elected governor and elected legislature. There are Pacific and Atlantic islands under U.S. jurisdiction.
The United States currently governs American Samoa, Guam, the Northern Mariana Islands, Puerto Rico, and the Virgin Islands. American Samoa, Guam and the Virgin Islands are territories. The Northern Mariana Islands and Puerto Rico are Commonwealths.
The Federated States of Micronesia, the Republic of Marshall Islands and the Republic of Palau are independent nations. The United States has "special responsibilities" for these jurisdictions such as providing defense and a postal system.
Oral Health Programs
Territorial & Jurisdiction Oral Health Programs are devoted to improving and promoting the oral health and well-being of the residents of U.S. territories and jurisdictions. The following links provide contact and oral health information for territories/jurisdictions.
Pacific-Basin Territories/Jurisdictions
Eastern Territories/Jurisdictions
Pacific Basin Dental Association (PBDA)
PBDA currently represents the six (6) U.S. territories and associated Pacific Islands Jurisdictions. View collaborative efforts of the Member Territories/Jurisdictions.
Links of Interest
PACDENT (Pacific Oral Health Professionals Network)
A Pacific-wide discussion listserv*